Plant Paradox Shrimp Egg Rolls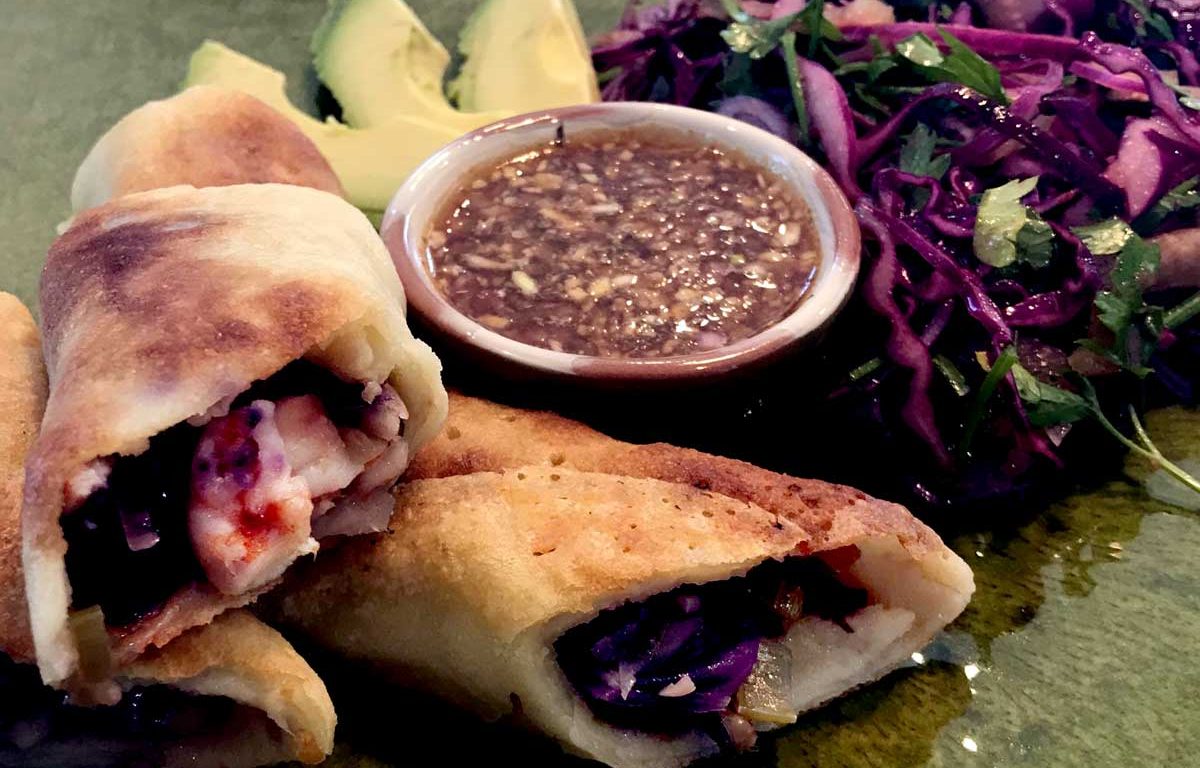 These egg rolls are grain free, lectin free and sugar free.
Ingredients:
Yield: 6 Egg Rolls
Egg Roll Wrappers:
1 cup Myx All-purpose Flour (1/3 cup  each of almond flour, arrowroot and tapioca starch, mixed)
1 Tbl Avocado Oil
1 Egg
3/4 cup water
1/4 tsp Himalayan salt
Egg Roll Filling:
3 Tbl Avocado Oil
2 Garlic cloves, minced
1 Tbl Ginger, grated
12 dried Shiitake Mushrooms, re-hydrated and chopped
1/2 cup Celery, finely chopped
1/2 cup Napa or Green Cabbage, shredded
1/2 cup Water Chestnuts, chopped
12 Medium Wild Caught Raw Shrimp, chopped
3 Green Onions, chopped
2 Tbl Coconut Liquid Amino (we used Braggs)
1 tsp toasted Sesame Oil
Dipping Sauce:
2 Tbl Coconut Liquid Amino
2 Tbl Marin
1 large Garlic clove, minced
3/4″ pc. Ginger, minced
Directions:
Making the Filing:
On a large skillet on medium heat, add a 1 tablespoon of avocado oil. Once warmed saute the garlic and ginger until fragrant. Then add the mushrooms, celery, cabbage and water chestnuts, cooking through until soft and cabbage is somewhat translucent.
Once the vegetables are mostly cooked through, add the shrimp, green onions, coconut liquid amino and sesame oil. Carefully saute so that all the vegetables are flavored and the shrimp is all pink, just a few additional minutes.
Set aside and allow filing to cool completely before assembling in the wrappers. If there is any additional liquid in the pan, press down on the vegetables with your spatula and pour out the liquid in the sink. Cooking for a moment more over the stove after pouring liquid out may help also to cook out anything you may have missed. You may also use a nut bag or your hands to squeeze out the liquid. Doing this will prevent soggy egg rolls!
Making the wrappers:
Place a 7-8″ non-stick pan on high heat on the stove.
In a medium bowl, whisk the flour, oil, egg, water and salt together.
Pouring about a quarter of a cup in the pan, quickly swirl around the batter to coat the service of the pan, creating a thin layer of batter on the entire thing. Try to get it as thin as possible and cook until the bottom is golden brown. Flipping this is not necessary, once the bottom is browned, place on a paper towel and allow to cool.
Assembly:
Using a slightly or completely cooled egg roll wrapper, place about 1/4 cup of filling in the center of the wrapper. Arrange filing in a line and fold a small part of the two ends over (so the filing does not spill out once you've rolled it), taking one of the open sides and roll up as tightly as possible. Use a toothpick to hold into place.
In a pan over medium heat, add about 1 tablespoon of avocado oil and cook the completed wrap until golden brown on two sides (or all the way around if you want to take that extra time for extra crunchy outer layer).
Making dipping sauce:
Combine all ingredients together in a small food processor for approximately 1 minute or until mostly blended with small  pieces in the sauce.  .