Chicken Caesar Salad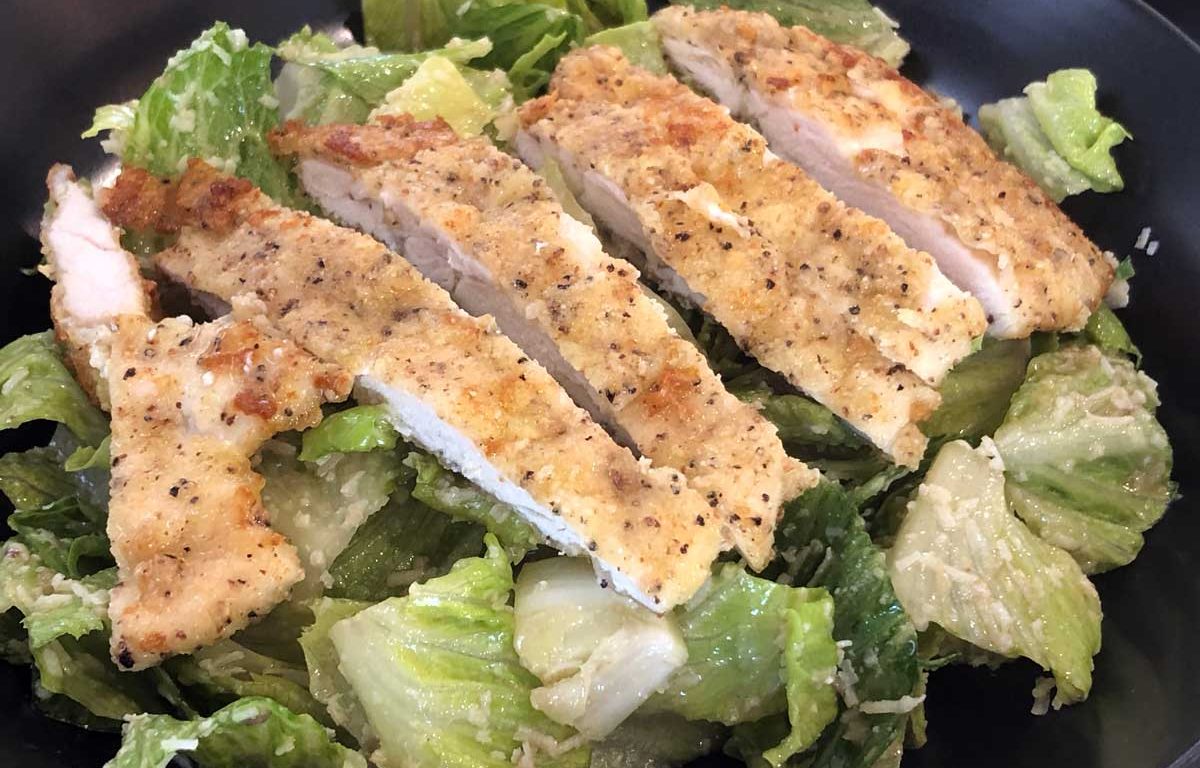 Classic recipe with all the ingredients that fit our diet. I've been making this since the early 80's and it's always been a favorite!!
Ingredients:
Yield: 4 to 6 servings
1 package of Little Gems (approx. 6 Gems is 420 g.) or the equivalent using Romaine hearts
1/4 cup Olive oil
1 can (2 oz) Flat Anchovies in olive oil & salt, drained
3 Garlic Cloves
1/2 Lemon Juice
1 tsp Dijon mustard
1/2 tsp Ground Pepper
1/2 tsp Worcester Sauce
2 dashes of Tabasco Sauce
1/2 cup Italian Parmesan Cheese, grated finely
Chicken:
4 Chicken (boneless) Breasts, cut 1/4″ thick
1 cup Myx All-Purpose Flour (equal parts almond flour, tapioca starch and arrowroot)
2 Organic Eggs
3-4 Tbl Italian Butter
3/4 Tbl Olive Oil
Salt and Pepper, to taste
Optional: 
Croutons (I have made these using our grain free focaccia bread)
Directions:
Preheat oven to 400
Prepare the chicken:
Wash the four chicken breasts and pat dry with a paper towel. Carefully slice the breasts in 2 (if they are thick pieces). With a meat tenderizer, pound the pieces of chicken until they are about 1/4″ thick. I like to do this with them in between two pieces of parchment paper.
In one bowl, whisk the two eggs and set aside. In a second bowl, place the Myx All-purpose flour. One at a time, coat the chicken in the egg, allow to excess to drip off and then coat chicken with flour. Then place the flour coated chicken on a plate with plastic wrap, placing a piece of plastic wrap in between each piece of check there after so they do not stick to one another.
Note: This can be done several hours before cooking. Just keep the chicken in the refrigerator.
Cooking Chicken:
In a pan over medium heat, in 1/2 butter 1/2 olive oil (I do a tablespoon of each at a time), fry the chicken breast until golden brown on either side (about 2 minutes). Place the on a baking sheet and bake them for another five to ten minutes.
Making the salad:
In a small food processor put in the garlic cloves and pulse to finely mince. Then add the can of anchovies (drained) and juice from half a lemon, process until blended.
Then add the Dijon mustard, pepper, Worcester and Tabasco sauce to the food processor mixture until well combined. Then slowly add in the olive oil.
Cut the little gems (or Romaine hearts) into bit size pieces and place in serving bowl.
Mix the lettuce, dressing and half of the Parmesan. Tossing until well combined.
Slice the chicken into strips and place on top of each plate or cut into smaller pieces and toss within the salad.
Plate and add more Parmesan as topping if desired. At this point you may also add optional items listed.